'Happy Mother's Day – We Are All Superheroes And We Should All ...
Author, model and award winning content creator Louise Boyce takes on the reality of Mother's Day.
Author, model and award winning content creator Louise Boyce takes on the reality of Mother's Day.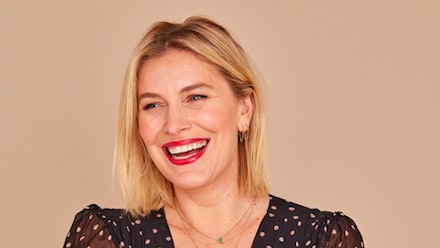 by Louise Boyce |
Posted58 minutes ago
'Isn't it strange that mothering Sunday is always on a Sunday?' Yup an actual statement I said in my twenties whilst sipping prosecco with my mum, brother and sister Mothers Day 2001. Mum, a single mother to us (three kids under six and no ipads!) fell about laughing and topped up my already full glass. This was the first time I really understood the importance of mother's day as the four of us all took time out of our busy diaries. Mum was very much experiencing the 'empty nest' syndrome and I realised how much it meant to my mum for us all to be together. To celebrate her.
Mother's Day today is quite different. Now that I am a mother of three small children, and have inherited not one, but two mother-in-laws, plus my own mother, there is a mother's day juggle, struggle, sometimes tears and definitely more prosecco.
Ideally Mother's Day should really be that – a day for mothers to reset, regroup, recharge and resurrect. A whole day (allegedly) to sit back, close some never ending open tabs, finish that cuppa whilst it's still hot and mute the 'mummy watch' chants. A day to actually be a little bit selfish – and when I say selfish, I mean normal everyday things that perhaps your partner does anyway. Like take a shower without a little one watching you in disgust asking why you have hair down there, after asking you for a snack on loop, even though their father is in the kitchen standing next to said snacks. Or taking a poo like man (a good 40 minutes of uninterrupted phone scrolling) instead of being the usual climbing frame that I apparently become whilst trying to enjoy a peaceful poo. No such thing in motherhood.
The question is – do you want to have this day to yourself to feel seen, appreciated, and respected, or would you rather carry on as normal, perhaps at the pub for a Sunday roast (that you probably booked) inevitably being the chosen parent to take your toddler to the loo and running around after them when they refuse to sit down. Where is the day off? And really – don't we need more than a day a year off? A day a week would be tremendous. Being a mother is hard work. This is no joke. As mums, we are constantly learning on the job, constantly moving and providing whether we're exhausted, sick, premenstrual, pregnant and we often don't appreciate or acknowledge our own strength – mentally and physically.
You can imagine my angst when this year my husband informs me he's on a stag do over Mother's Day. Enter your own preferred expletive here. I'll be making lunch for his mother and mine who can really enjoy this day, where I'll be running around everyone, making sure their glass is full when I'm sure mine is empty. Cue the violins. Don't worry it's fine - this Father's Day (isn't every day Father's Day?) I'm off to Ibiza.
So Happy Mothers day to you all – to the new mums, the seasoned mums, the single mums, the step mums, the mums-to-be – we are all superheros and we should all feel seen. I've always believed that under all this motherhood we are still fabulous and we may be tired but we have still got it. And mum guess what? Mothering Sunday seems to have landed on a Sunday again… strange that. Pass the prosecco.
Author, model and award winning content creator Louise Boyce's book, Mama Still Got It, is out on June 8. To preorder now, click here.
Image courtesy of @milkbroadcastanddigital (Part of MiLK Management London) Photographer: Sarah Brown @sarahbrownphoto
Just so you know, whilst we may receive a commission or other compensation from the links on this website, we never allow this to influence product selections - read why you should trust us